I'm not usually superstitious...umbrellas in the house don't faze me; I don't think twice about walking under ladders; I think Friday the 13th is actually lucky; and I only avoid black cats because I'm allergic to cats of every color. The only superstition I follow regularly (although I don't really believe in it) is to avoid killing spiders because it causes rain.
Running superstitions, however, are a very different story.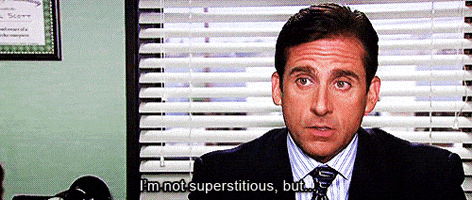 For example, I like to start each run with the same song, even if I've mixed up the rest of my playlist. For a long time it was 30 Seconds to Mars's "Closer to the Edge", but lately it's New Order's "Age of Consent". Hearing the familiar intro creates a Pavlovian effect and I just feel ready to run when the song comes on!

If I've been having trouble motivating myself to run or have been having a string of rough runs, I wear one of my Sub-30 Club shirts or headbands. They always seem to get me out of a funk, and the support of those friends feels tangible when I'm wearing our logo.
It's a good thing I own three Sub-30 shirts and three headbands...I can use them for motivation six days a week!
One of my running routes seems lucky, too. It's impossible to run it and have a bad run! The weather is always perfect, my splits excellent, my shuffled playlist hits all my favorite songs...but I try not to take that route too often because I don't want to use up the good luck. (Isn't that weird?!)
I also have a pre-run routine I have to follow or I feel kind of "off" the entire time. I take everything I'll need out of my running bag and line them up on the car's armrest in order: inhaler and aerochamber, headphones (if I'm using them that day), phone, armband, car key, and gum. Then I use my inhaler and pack it back in the bag, set up my headphones and put the case away, store my running bag somewhere safe in the car, set up my phone, tuck my key into a pocket, take a tiny sip of water, pop in my gum, and then I get out of the car.
If I miss a step in that process, my whole run feels weird.
One last superstition I have is about January races; they just always seem to be the ones I fall apart during. I broke that particular curse last January when I ran the
Suncoast Half
, and then I realized that maybe the bad luck was about one race in particular, the
Naples Daily News Half
. I've resolved to never run that one again!
Do you have any superstitions, running-related or otherwise?
Do you have a good-luck outfit?
ABK