Week five of the Zooma Holiday Challenge has come to a close, and I feel good. Surprisingly strong and balanced. In the past, challenges have burnt me out, but this time I feel like it's actually laying a foundation for long-term commitment without the stress that usually accompanies it.
This week included the majority of Chanukah. I always feel like taking the time to celebrate counts as self-care, and I spent week five feeling deeply fulfilled and content.
Movement 1:
I started the week with a bang, completing a three mile run, an arm workout (Peloton), and a core workout (
Coach Marcia
). I had finished week four feeling so motivated that it carried right into week five.
I think I'm starting to see some real physical results from my dedication, and seeing results motivates me to do more.
Movement 2: Matt and I took an evening walk (a little less than two miles) to get some fresh air and stretch our legs.
Movement 3: I completed a 30-minute Peloton ride. This was my first ride in my new spin shoes and it was fantastic! Being clipped in REALLY makes a huge difference; I was able to come out of the saddle with proper form and push for a faster cadence. I'm so glad I got a pair of shoes for myself!
They're functional and pretty!
Movement 4: I attempted a four mile hill run, but it turned into 3.3 mediocre miles. My legs were too sore after the Peloton to really dig deep for this run, so I called it early.
One reason I've always avoided cross-training is because I worry it will affect my running. This does seem to be the case if I'm not careful about how I plan my runs. I need to be more intentional about planning for hills, flat runs, and the bike.
Movement 5: My legs really needed a rest. I completed two Peloton app workouts — arms and abs. The arm workouts have really proven to be effective; I'm always sore for days after.
I didn't love this ab routine. It's the first Peloton workout I've done that I gave a thumbs-down.
Self-Care 1: I splurged on Black Friday and bought myself some new makeup, so this week I broke out my stash — which I haven't used since March — and did a full face. I listened to music and just pampered myself. It was fun to experiment with my new eyeshadow pallet, and I had forgotten what I look like in mascara!
We took our evening walk after this, and I've made a mental note to buy some waterproof mascara. The cold wind did a number on my eyes!
Self-Care 2: As usual, I repainted my nails.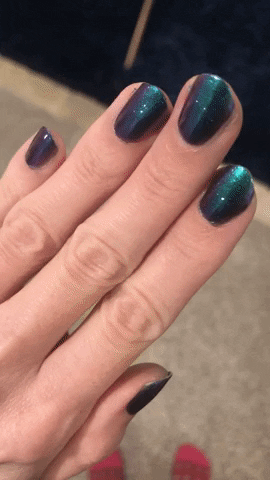 But also, I finally set up a time to Zoom with some friends back home! It was so fun to see their faces and chat in real time. I have decided I need to be better about actually choosing a day/time to call, not just saying, "Oh hey, we should Zoom sometime..." That's something I'm going to work on.
Week six is the final week of this challenge, but because I signed up for the full Winter Warrior package, I have the
Love Run challenge
coming up! No rest for me!
ABK