The other day, an event from a local brewery popped up on my newsfeed: Harry Potter trivia! As I've mentioned, I am currently reading the books to Matt. He's seen the movies, but has never read the books. We're in the middle of OOTP right now.
We very rarely go out and do things like this, but it sounded fun, and it's the last week of summer break for me so...why not?!
We arrived at
Millennial Brewing
just after 6pm and it was already getting crowded. I immediately spotted a couple other teachers there, but they were with their own groups so we left them to it after saying hello.
It's hard to tell but that's a wand I'm holding.
Matt and I hung out for an hour before trivia started. I had a key lime cider from 3 Daughters, which may actually be my new favorite cider - it was a little tart, not at all too sweet, and tasted very fresh. Matt had the butterbeer cocktail (which was lager, cream soda, and homemade butterscotch) and we split a butterbeer hemp ice cream.
(Side note: this was the most bizarre thing! The ice cream wasn't frozen the way real ice cream is and almost had a sticky/stretchy consistency. It was good and tasted like ice cream but you could tell it wasn't "normal".)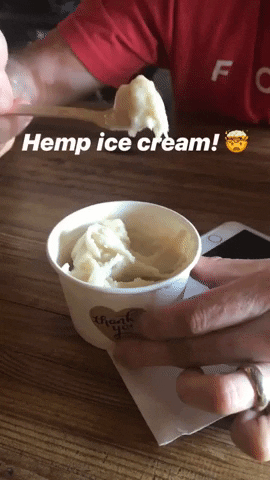 Matt did surprisingly well for the first game of trivia, which was focused around
The Sorcerer's Stone.
(We played three games; each of the three games focused on a different book. I was glad they weren't movie-based questions.) Our team name was
Mimbulus mimbletonia.
Excited to be on the board! There were 83 teams playing!
Anyway, we got on the leaderboard in the second game (
Prisoner of Azkaban)
and even made it to first place for some of the last game (
Order of the Phoenix).
I accidentally hit the wrong answer for a question, though, and ruined our lead. Competition was tight. We finished in 3rd, which wasn't bad at all!
I felt like I'd earned my Harry Potter fan club membership.
Here's a trivia question: do you know whose wand I have?
There were a couple food trucks in the parking lot; we had vegan nachos from
Buddha Blends
, which were honestly amazing. They were topped with cashew queso and the ground "meat" was made from ground and seasoned walnuts, both of which were new vegan tastes for me. I'm a fan!
As I was at the bar closing my tab, a girl who had been sitting with one of my teacher friends made eye contact with me. I'd noticed her earlier and thought maybe I knew her. We kind of stared at each other, and she said, "You look familiar."
I was like, "I think I taught you."
We exchanged names and suddenly all these memories came rushing back. She was one of my little smarty-pantses, and definitely a kid I remember fondly. She's currently in her last year of undergrad with her sights set on PA school. I was like
omg you're old enough to drink now?!
We caught up a bit, during which time Matt had to hold his own on the trivia game. He did a good job! I was proud of him!
Shoutout to Ashley for the shirt!
There were some really clever team names!
We'll definitely be back for more trivia nights that pique our interest, although I'm not a fount of knowledge for much outside Harry Potter unless they're going to do "general English major random facts trivia". I won't hold my breath.
ABK