I have been looking forward to this trip to Seattle for
months.
The last vacation Matt and I took was to St. Croix in 2015. Before that, we made the trip to California in 2013. Obviously, we don't get to make trips as frequently as I'd like.
Scott and Robby's wedding is July 15 on Orcas Island, so we decided to take advantage of the trip and make it into a real vacation.
After multiple delayed flights that eventually led us to change airlines (you know things are bad when customer service offers to get you on a flight with an entirely different airline and pays the difference for you), we made it to Seattle. We lost a day of our trip, but because of the time of the new flight, we had enough energy to go straight into sightseeing.

Our first Airbnb was in Alki, which is southwest of downtown Seattle and offers gorgeous beach views and parks. This turned out to be the perfect start to our vacation because it was calm and quiet, without the stress of the city. We grabbed lunch at a little Thai place, then walked around Schmitz Preserve Park. We drove around the area and stopped for pictures of the skyline, then headed to Lincoln Park for some more light hiking.
Schmitz Preserve
We found a gator at Schmitz Preserve!
Our first view of the skyline. Spot the Space Needle!
Liocoln Park
We had dinner on Alki beach at Blue Moon Burgers. I was already loving how many gluten free options the area had to offer!
On July 7, we had breakfast at Bird on a Wire - I had an amazing GF coffeecake and took a piece of banana bread for later - and then made our way back to Lincoln Park to check out the driftwood "sculptures" we'd heard about.
I got some "light" running in.
Afterward, we went to the SAM and the Olympic Statue Garden. There were two things on my must-do list in Seattle, and the art museum was one of them, so I was really glad to spend some quality hours there. The exhibits were awesomely multicultural, and featured lots of art from First Peoples of Washington and the Pacific Northwest, female artists, and artists of color and various sexual orientations. (See
SAM highlight
on Instagram.)
I discovered a new favorite artist, Anselm Kiefer! Here is one of his pieces: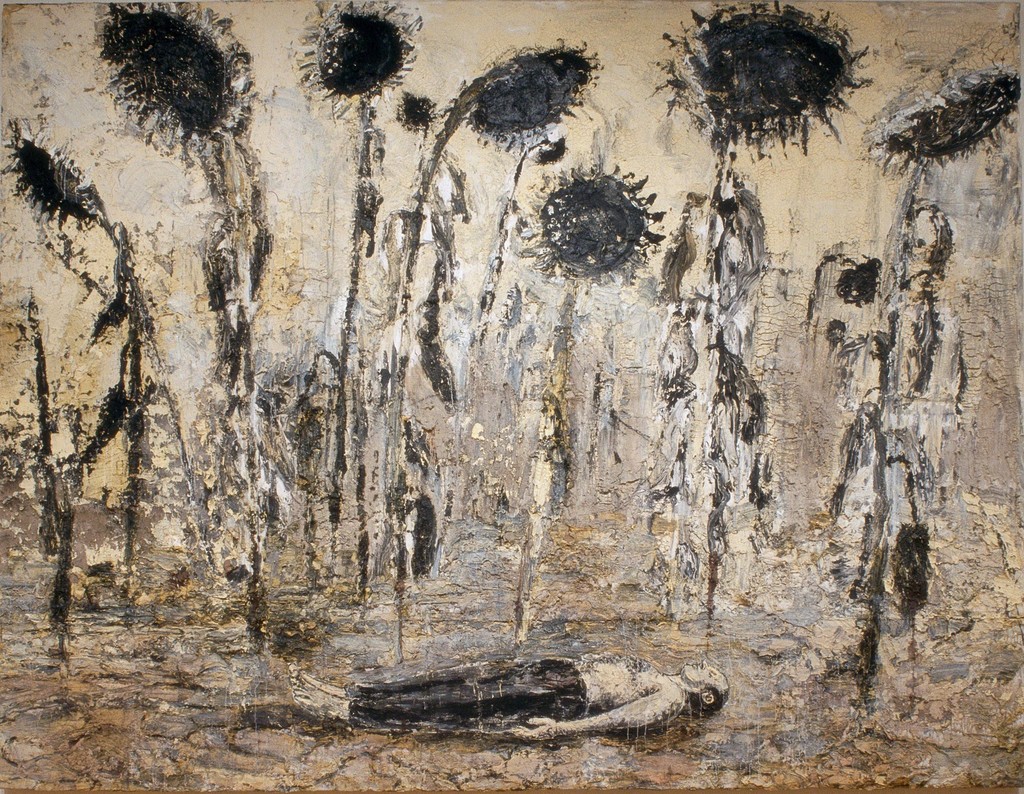 Click here for more about this piece.
From the Olympic Statue Garden, we headed out to Snoqualmie Falls, then grabbed dinner at Cactus on Alki beach. My friend Emily recommended it because of their jalapeño margarita, and it was well worth it!
These first few days of vacation were relaxing and reawakened my love of nature. I told Matt that I had forgotten how much I loved hiking and being outside as a kid growing up in Ohio, but once we moved to Florida I really lost that. I hate being outside; I don't like the beach and Florida is ugly, flat, hot, and sticky. Being surrounded by green trees and cool breezes again, I felt this little knot inside open up. I felt reconnected with the person I once was. It felt a bit like coming home.
It is a shame, though, that so many must-see spots in Washington are shrouded in the dark history of colonialism. Snoqualmie, for example, is a sacred place for the
Snoqualmie people
, but some white guy decided to build a power plant there in the 1890s, utilizing the physical power of the falls and ignoring the important spiritual power the area held for its original denizens.
The many placards around the falls itself barely mention this, simply saying that despite the importance of the falls to the tribe, Baker had a "bigger vision" for what the falls could be. It's so ridiculously whitewashed.
As you notice the various Native names of places throughout Washington, you start to realize just how much of this land was stolen and repurposed in the name of colonialism. (When I talk about our hike up Tacoma [Rainier] I'll touch on this more.)
Coming up: our side-trip to Vancouver!
ABK