I am 32 years old and Monday night I wanted to throw a tantrum.
Every year, we hold an evening meeting for parents of 5th graders to give them all the pertinent information regarding transitioning to 6th grade - middle school. This year we also linked this meeting to the informational sessions on the DC and Tallahassee trips. Basically, I was at school until 8pm. That's 13 hours at work, for those counting.
Monday nights are for running. Lately, I haven't been running on weekends because things have been busy, so by the time Monday rolls around I am
ready.
Monday runs are a nice way to start the week. This Monday, I realized they are an
important
way to start the week.
My last run was Thursday. Missing my Monday run meant I hadn't run in four days. I was cranky! At first I couldn't figure out why I was in such a foul mood, why I felt antsy and why I wanted to kick something. I just knew I was revved up and peeved.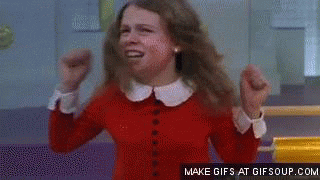 Real-live footage of me on Monday night.
I tossed and turned in bed all night, and when I woke up Tuesday morning from my fitful sleep I put two-and-two together. Sleeplessness and irrational anger? Running withdrawal.
It's funny how quickly that sets in! Apparently a couple weeks of running three days a week is enough to form the running habit, and four days off is enough time to feel the effects of missing it.
Luckily, Elizabeth and I had planned a run for Tuesday (as the Spanish teacher, she had to be at the meeting to talk about middle school electives) ahead of time. I think she was feeling as antsy as I was; we were both frustrated over missing a Monday run. When we made up for it on Tuesday, it felt SO good.
The funniest part was when I was telling her about my "running withdrawal" symptoms. It made us both realize that we're truly back into a normal running pattern. It's one more step on the recovery staircase. These days, extra rest isn't welcome or necessary. It's just annoying.
I plan to continue to run three runs a week for a little while longer; it's not a perfect habit yet and sometimes I still feel I'm testing the water, but I'm feeling more consistent every week! And apparently, I'm at the point where I'm
feeling
it when I miss a run.
ABK